2017
Gallery of monochrome images from the forest.
2016
February
Some beautiful sunny days this week after days of wet and windy weather.
Tiroran Community Forest is mainly a commercial coniferous forest, but there are pockets of native and semi-native habitats including several small blocks of Atlantic hazel woodland. Hazel dominates, with multiple-stemmed stools that could be natural or could be the result of past coppicing. Whichever they are, the stems are covered in lichens and mosses including many uncommon species.
The hazel nuts are prized as food by several creatures such as wood mice and bank voles and everywhere there are hazels, there are huge stashes of empty hazel nut shells.
January
Rough weather has been particularly tough on the Mull wildlife. We regularly have around 100 birds around the feeders in the garden so I am looking forward to the RSPB Big Garden Birdwatch at the weekend. Whether they will believe white-tailed sea eagle and hen harrier I am not sure, but they often pass by. A male kestrel appears to have taken up residence, so I am hoping that he can attract a mate to the kestrel box that has been up in one of the big spruce trees in the garden since we moved here 9 years ago (thanks for the box Mike).
June 2014 - Day after day of great sightings of white-tailed eagles, golden eagles, buzzards, etc. at Mull Eagle Watch. Went for a walk in Pennyghael Woods (one of my favourite places on the island) this morning.
Lots of insects on the wing at the moment including numerous dragonflies and damselflies including the common blue damselfly.
Had a great sighting of a red-necked footman moth in a ride in Tiroran Forest last week.
27 April 2014 - We have had good weather for most of April and today has been superb. Took a trip around the island visiting Calgary and various other locations including the waterfall Eas Fors.
2 April 2014 - I am seeing quite a few greenshank around the shores of Loch Scridain at the moment, but otters sightings have been scarce.
22 March 2014 - Caravan & Camping magazine reporter and photographer visited Mull Eagle Watch last year and the article is in the April edition. It was a great pleasure to meet my wildlife photographer hero Laurie Campbell who took the pics.
21 March 2014 - Trip to the hide at Mull Eagle Watch to make preparations for starting the trips to see the nesting white-tailed eagles, Iona & Fingal. They have been seen mating and nest building this week.
FC making improvements to the hide by erecting a 'rustic' canopy to give us more protection from the rain.
7 March 2014 - Spent a great afternoon on Erraid (an island at the western end of the Ross of Mull) advising on bird nestboxes and other nature conservation management. It is a fascinating place, not least because of the R L Stevenson connection. Thanks to Carol and all the Findhorn Foundation team for the hospitality and tour.
View of the old smithy and quarry remains.
5 March 2014 - It has been quite wet here this winter, but nothing like as bad as most other parts of the UK. Now, the primroses are out, the frogspawn is developing in the ponds, and the eagles are nest building.
Short-eared owl flying near the garden today.
It is my daughter Amy's birthday today and I have drawn a picture of her pet rabbit Noah as a present.
Amy is having great success with her online shops selling her own designs - check out the 'Amy Clare Designs' page.
I have given two talks recently: 'Birds of Mull A-Z' and 'Mull Garden Birds' and will be giving another - 'The Wildlife of the Ross of Mull' on 9th April at 7.30pm in Creich Hall, near Fionnphort.
I will also be leading a walk around Kilpatrick, near Bunessan, on 3rd May describing the wide range of fascinating historical features that I found during the landscape archaeology survey I carried out for the Ross of Mull Historical Centre.
28th January 2014 - Glorious sunny day on Mull today. Out working in the garden of our holiday cottage (www.eaglecottageisleofmull.com) and watching the spectacular aerobatics of a pair of ravens. What great calls they have. they suddenly peeled off to chase a juvenile white-tailed eagle that has been feeding on carrion on the hill behind the cottage.
27th January 2014 - My film with Mike Dilger of the BBC was shown on The One Show last evening. Missed most of it so am going to watch it on i-player. Pleased with my footage of billy goats rutting.
26th January 2014 - RSPB Big Garden Birdwatch. 16 species recorded, including brambling, and a high count of at least 28 chaffinches. No tree sparrow or yellowhammers so far this year though.
8th January 2014 - A single jackdaw appeared in the garden yesterday. I don't normally see them here, I expect it is one from Iona that is finding food hard to come by now that there aren;t any pickings outside Martyr's Bay restaurant. It fed from our suet ball feeder for quite a while.
January 2014 - The weather is still very mild with a few wild and wet days with the winds coming in off the Atlantic. I am in the process of getting our holiday cottage back up and running after letting it to our local basket-maker for a year (www.eaglecottageisleofmull.com).
Boxing Day 2013 - Fantastic walk on Ardalanish beach.
22 Nov 2013 - Great day on Mull today after the high winds yesterday. Two white-tailed eagles overhead this morning:
October 2013 - I have had a great week working with the BBC Autumnwatch camerman Mat Thompson filming the wild goats at Carsaig.
On Thursday, the BBC One Show film crew turned up with presenter Mike Dilger also to film the goats. Despite a very long walk carrying heavy camera equipment, we had a brilliant time, getting great footage of the goats and doing lots of interviews. As you can see the weather was superb. We also saw and filmed golden eagles and white-tailed eagles.
August 2013 - Great views of the juvenile white-tailed eagle chick and its mother, Iona, flying from the trees as we reached the end of the walk at Mull Eagle Watch.
31 July 2013 - Launch of the Ross of Mull Poets book 'Poet Tree' at Bunessan Bakehouse. 21 copies sold. Thanks to Robin who hosted the event and to everyone who turned up for a great evening.
Do come along to Creich Hall on Wednesday 21st August 7.30-9.30pm when our group are hosting 'Poet on a Bike', Chris Powici who is raising money for Macmillan Cancer Support.
Received the first printing of some new additions to my range of Mull books - Birds of Prey, A-Z Wildflowers and Wildlife Garden, also reprints of out of stock books.
27 July 2013 - The Mull Eagle Watch chick fledged while no-one was watching and I then spent much of the weekend listening and looking for it.
14 July 2018 - 9 Greater butterfly orchids flowering in the garden today. 4 swallow chicks are about to fledge from the nest in the garage and a second pair of house martins have taken over an old swallow nest above our bedroom window. We are certainly giving nature a home!
9 July 2013 - Another beautiful sunny day on Mull. Great views of the eagles at Mull Eagle Watch. Masses of gold-ringed dragonflies and dark-green fritillaries flying (Scotica variety shown).
20 June 2013 - Two brilliant groups of visitors at Mull Eagle Watch today, both getting good sightings of the chick and Iona on and around the nest.
19 June 2013 - Great views of both adult white-tailed eagles flying in to the nest at Glen Seilisdeir today. The male brought what looked like a young greylag gosling, which the chick swallowed almost in one go. Only one foot was left sticking out of its beak.
7 June 2012 - A pair of swallows are nesting in the garage again this year and house martins are in the artificial nest on our house wall. Have already had fledged house sparrows, blackbirds and song thrushes. Red throated divers calling flying over every day now.
5 June 2013 - Today was the day that our white-tailed eagle chick at Mull Eagle Watch, Glen Seilisdeir had a leg ring fitted. The climbing team from RSPB and Forestry Commission got all the measurements and ringing done in the morning and saliva samples were taken for dna analysis and to confirm sex of the bird. Iona (the female) returned to the nest within an hour and immediately started plucking the rabbit (road casualty) that had been left on the nest by the ringers as compensation for the minimal disturbance. She then fed the chick.
Lots of green tiger beetles, wood tiger beetles and dor beetles on the forestry track today.
2 June 2013 - Great day at Camus on the Ross of Mull, meeting with lots of friends I haven't seen for a while.
30 May 2013 - Watch out for green hairstreak butterflies, which are on the wing at the moment. Both of the adult white-tailed eagles, Iona & Fingal, were on the nest at times today, and both feeding chick. Good views of adult wte's flying above us as we walk to the viewing area as well.
29 May 2013 - Iona on the nest with the chick, which is growing rapidly hour by hour. Slight concerns that the male was absent yesterday, but he flew in this afternoon bringing food, allowing Iona to stretch her wings, and then feeding the chick. Lots of happy family visitors in the viewing area, especially when we saw Iona soaring over the nest as we left.
24 May 2013 - Lots of happy visitors to Mull eagle watch today with lots of views of the chick, which is growing ever more rapidly. We also hosted a party of Norwegian wildlife-business people.
23 May 2013 - Both Iona and Fingal were taking turns to feed the chick today. The strong winds were ruffling a few feathers. Got home to see a hooded crow 'nit-picking' on the local cattle.
22 May 2013 - Baby song thrushes in the garden today. This one making loud squawking noises and being fed by an adult.
21 May 2013 - The chick is growing fast, every day it looks more like an eagle than a fluffy ball of down. Received my ballot paper for the Tiroran Forest community buyout and voted YES.
16 May 2013 - Good weather for most of the day at Mull Eagle Watch with excellent views of both adults on the nest feeding the chick, which is growing rapidly. Visit by a party of students and lecturers from George Watson's College, Edinburgh in the morning.
They built a full-size white-tailed eagle nest - 6ft across.
13 May 2013 - Wet in parts for the morning trip at Mull Eagle Watch. We got back to the hide and immediately Iona (the female white-tailed eagle) could be seen to stand up and feed the chick from the food store on the nest. Fine in the afternoon and good views again of Iona feeding the chick and even leaving the nest for several minutes.
10 May 2013 - Apalling weather for the visitors from the Isle of Bute. Poor old Iona glued (almost literally) to the nest. The visiting party from the Isle of Bute all soaked to the skin but seemed to enjoy themselves. Numerous lambs are also suffering from the wet weather with many natural fatalities.
9 May 2013 - Third adult white-tailed eagle in a tree near the nest, resulting in an aerial battle with Fingal (the Glen Seilisdeir male) homing in on the other bird from above and much flipping over and displaying talons. Great sightings for our visitors. A buzzard also joined in to mob the intruder. That pesky great spotted woodpecker sat on the trunk above the nest again. As long as it doesn't start pecking below the nest!
8 May 2013 - 2 ravens landed on the tree above the nest much to the female white-tailed eagles consternation. I think they were more after the carrion on the nest than interested in the chick. Eventually the male returned and saw them off. A short while later we could here the ravens mobbing something close by. Then an osprey flew past the nest and toward Loch Scridain.
6 May 2013 - Great views at Mull Eagle Watch of a single chick being fed by both adults in turn.
5 May 2013 - At around 10am this morning Fingal (the male white-tailed eagle) flew onto the Glen Seilisdeir nest with a beak full of dead molinia leaves. Iona (the female) stood up and after a few seconds the downy head of a small chick became visible in the nest. Proof at last that at least one of the eggs has hatched succesfully.
4 May 2013 - Despite a couple of hours watching the nest, iona refused to stand up so that it was impossible to confirm that there was a chick in the nest. She was constantly fidgetting and looking down, however, which usually indicates movement in the nest below her.
3 May 2013 - First white-tailed eagle egg at Mull Eagle Watch, Glen Seillisdeir due to hatch. Very wet day but Iona (the female white-tailed eagle) showed all the signs of egg hatching and later tending to a chick.
2 May 2013 - Beautiful short-eared owl on the shore of Loch Beg on the way to Mull Eagle Watch.
5 April 2013 - Visit to Mull Eagle Watch by top wildlife photographer Laurie Campbell.
24 April 2013 - Three changeovers of one adult taking over incubation of the eggs from other adult eagle.
21 April 2013 - First cuckoo heard from the garden.
28 March 2013 - Second egg laid by Iona.
26 March 2013 - First egg laid (hatching due 3 May).
25 March 2013 - First day of Mull Eagle Watch 2013. Both Iona (female) and Fingal (male) stood on the nest. Fingal had earlier brought a large lumpfish in, which both birds had proceeded to tear apart and feed on.
11 March 2013 - Both adult white-tailed eagles on the nest at Glen Seilisdeir today. Also adult pair at Ormsaig Farm on the rocky shoreline.
24 February 2013 - Glorious day on Mull. A murder of 20 ravens circling overhead, contact-calling and reinforcing their pair-bonding prior to nesting.
18 Feb 2013 - Another beautiful sunny day, with bottlenosed dolphins in the bay again today.
17 Feb 2013 - Beautiful sunny day on the Ross of Mull but a bit windy. More frogspawn in our ponds and a very dark-brown female frog who needed a guiding hand to make sure she headed for the pond rather than the ditch outside our fence.
I have just returned from a trip to Glasgow where I have never seen so many magpies in all my life. Travelling along the Great Western Road there were pairs every 100m and magpie nests in every third tree. A few good sightings as well with long-tailed tits, mistle thrush and a peregrine gliding high above the botanic gardens. Groups of lapwing too on a sportsfield on the outskirts of the city.
13 Feb 2013 - The wettest and wildest day for a while. Surface water in places in the garden I have never seen it before and torrential waterfalls on the Burg peninsula across the loch. They are spectacular when the wind blows the water back in a continuous cycle. It is amazing how quickly the water runs off though, with the burns dropping in level drastically within a few hours of the rain stopping.
The small birds are swinging on the feeders and all the larger birds are absent, presumably hunkered down somewhere getting what shelter they can. A few tiny hailstones among the raindrops but very little snow on the hills and only a capping on Ben More.
10 Feb 2013 - The first frogspawn in the pond - just one lump so far. The relatively mild weather has tempted them out. I hope we don't get a frost, which may kill off some of the outer eggs.
7 Feb 2013 - A ringtail hen harrier hunted briefly over the garden this afternoon giving me one of their 'icy' stares as it flew slowly away. This is only the second time I have seen this species actually in the garden and this bird flew low and very close to the house.
Just a few minutes later I noticed a golden eagle cruising along just above the horizon of the hills to the south. It circled a couple of times before disappearing toward Loch Arm. Just another afternoon on Mull!
Golden Eagle - watercolour.
2013 - The new year has started very wet. The highlight in the garden on Christmas day was a single waxwing on a shrub very close to the house. Apart from that the only real excitment in the garden has been a regular confrontation between our local buzzard and a male kestrel that appears as though it has set up a territory with a view to nesting in the kestrel nestbox in the garden. There are regular flights of one or two sea eagles, but we are blase about them.
December 2012 - While cutting firewood today I noticed that there were a small number of bottlenose dolphins very close into the shore below our holiday cottage. Watched them for several minutes while they surfaced, jumped and tail slapped. They then moved off across Loch Scridain into the area where a salmon farm is proposed!
A robin has been following me around whilst cutting the logs, even into the log store. I think it may roost in here overnight as there is a hole in the window where it can gain access. There is also a roost of several wrens in the shed - they all perch on top of an old chimney sweeping brush that hangs from the roof.
As it was a mild, dry day today we have released the hedgehog that we have been feeding to get it to an adequate weight (600g) for hibernation.
A female sparrowhawk caught one of the migrant blackbirds in the garden and after around 10 minutes of standing on the prey began to pluck and feed. Suddenly a male kestrel stooped onto the carcase as well. After a brief flapping of wings the kestrel flew off and after a few moments the sparrowhawk also flew off with its prey.
November 2012 - Numerous winter thrushes keep re-visiting the garden although most of the rowan berries have been eaten. A small flock of waxwings also alighted in the tops of the conifers and raided one of the rowan trees further up the hill, which still had a good crop of berries. We saw a larger flock of waxwings feeding in rowans at carsaig.
For the second time recently we have had a barn owl in the garden at dusk. There is a kestrel box in one of the trees, which has been visited several times by a male kestrel.
October 2012 - Avian winter visitors such as whooper swans and Scandinavian thrushes are already here.
Aros park is awash with autumn colours.
Some of the ferns, bryophytes and liverworts on the older trees are at their best too.
The swallows have gone and the rowans are spectacular this year: many trees weighed down with berries.
Fungi have sprung up everywhere and are adding to the autumn colour.
9 September 2012 - Only 5 swallows remaining in the garden. Soon they will be on their way too.
7 September 2012 - Last day of the archaeological dig on Iona.
Me at the dig
Field Drain
Bronze Pin
20 Aug 2012 - Three species of heather flowering in the wildlife garden at the moment - spectacular! Gannets fishing close inshore today.
19 Aug 2012 - Four new wildlife booklets available - see BOOKS page.
12 July 2012 - Great boat trip from Fionnphort round Loch Scridain to Gribun on the Birthe-Marie with Mark Jardine of Alternative Boat Hire.
Ardtun Leaf Beds from the sea showing the stack with basalt columns.
Pair of white-tailed eagles and juvenile flying along the Ardtun cliffs.
Adult WT Eagle
Juvenile
8 July 2012 - Walk to Loch Buie stone circle.
Numerous Scotch Argus butterflies everywhere at the moment.
6 July 2012 - Regular visits into our new porch by a Common Lizard.
Common Lizard
A wide range of hoverflies in the garden on a range of flowers including hogweed.
(The sky is not really that blue - it is Sue's t-shirt in the background).
5 July 2012 - Ardalanish machair looking even more spectacular. The star plant discovery was a white Field Gentian.
Field Gentian
Hundreds of Sand Bees swarming along the southern edge of the dunes.
Sand Bees
Two Dunlin searching for sandhoppers along the strand line.
3 July 2012 - A glorious day at Bunessan Show (photos from 2011).
1 July 2012 - The sorrel seedheads in the garden are proving irresistible to flocks of siskins, goldfinches and linnets.
Siskin
Goldfinch
30 July 2012 - Numerous insects in the garden which is just as well for the swallows and house martins that are having second broods.
Hoverfly
Soldier-fly
Cuckoo-bee
28 July 2012 - The machair at Ardalanish is at its best at the moment - the sights and smells are spectacular.
Eyebright +
Harebells
The sea holly is also in bloom.
Sea Holly
Numerous dark-green fritillary butterflies on the wing including many of the 'Scotica' varieties.
DG Fritillary
The impressive wild carrot seedheads are beginning to develop.
Wild Carrot
26 July 2012 - Some of the ditches locally are ablaze with purple loosestrife, marsh ragwort and lesser spearwort.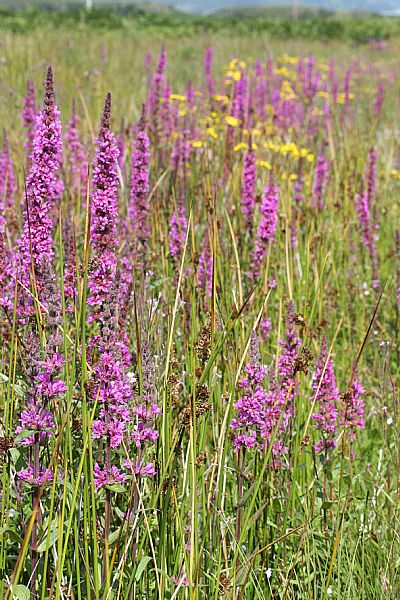 Purple Loosestrife
5 July 2012 - After looking ready to fly last night, the two remaining swallow chicks left the nest succesfully early this morning (two other chichs died when the mud nest fell off the wall, luckily I noticed quickly and fixed up an artificial nest close to the original site and popped the two survivors in).
Greater butterfly orchids now well out in the garden - much later than elsewhere.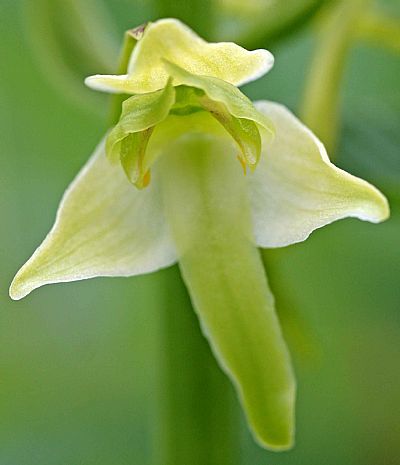 Gr't'r B'fly Orchid
4 July 2012 Boat trip to Lunga and Staffa with Gordon Grant from Fionnphort. Dolphins around the boat on the voyage out and back (no good photos though).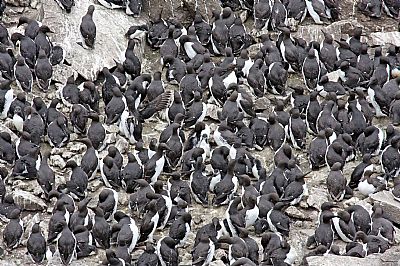 Guillemots
The nesting ledges on the Harp Rock were packed with Guillemots, Razorbills and Kittiwakes with numerous chicks, some of them well advanced.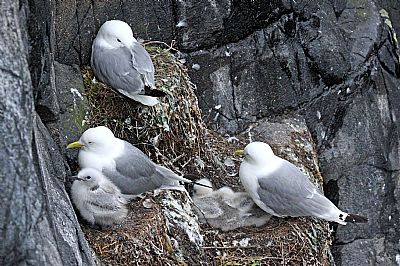 Kittiwakes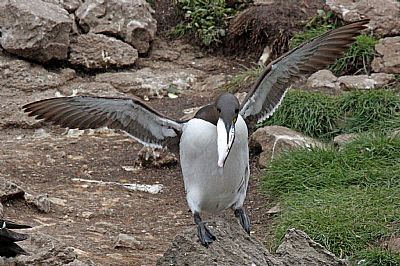 Guillemot
The birds are obviously doing quite well with their fish catch.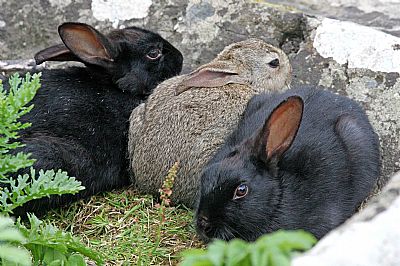 Rabbits
Lots of young rabbits, many of them black - descendants from domestic rabbits kept by crofters for food.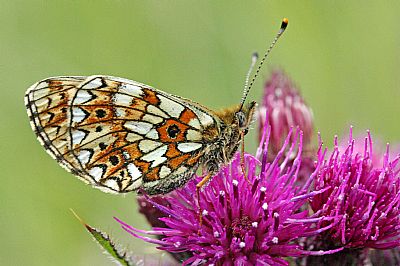 SPB Fritillary
17 June 2012 - Walk from the north coast of the Ross of Mull at Beach to the impressive cliffs of Gorrie's Leap on the south coast. Numerous butterflies including marsh fritillary, small pearl bordered fritillary (above) and dark-green fritillary. Also orchids in full bloom with greater butterfly orchid and northern marsh orchid particularly impressive (below). A really special sighting on the way back through the conifer plantation was a red-necked footman moth.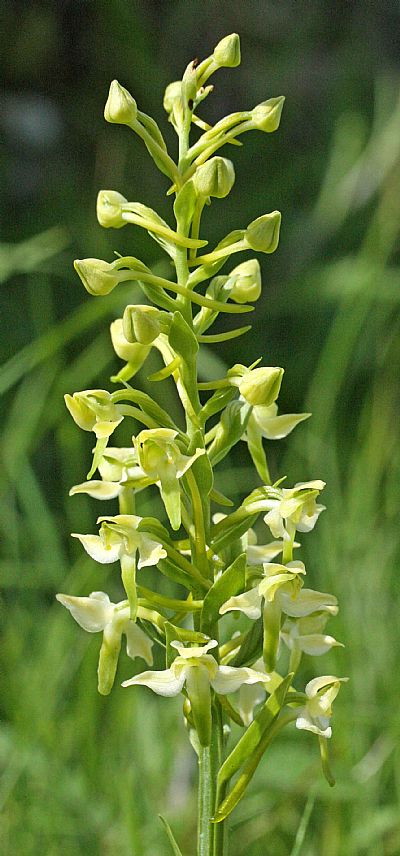 Gr't'r B'fly Orchid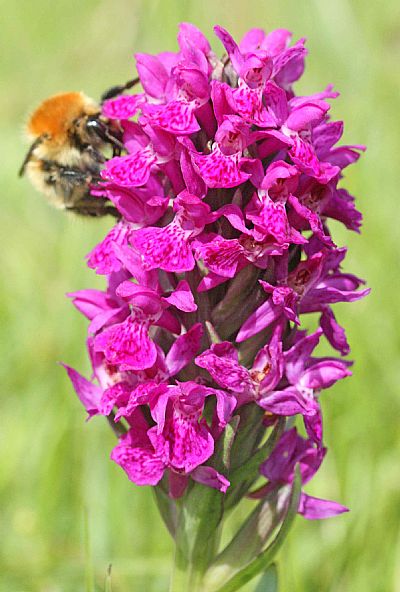 N Marsh Orchid
14 June 2012 - A special find during a walk at Carsaig yesterday was a bird's-nest orchid (picture below). Otherwise the usual otter sightings and a red-throated diver flying over, but dissappointingly very few butterflies around.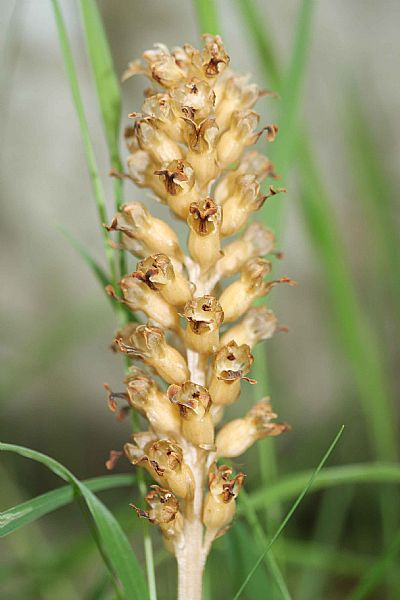 Bird's-nest Orchid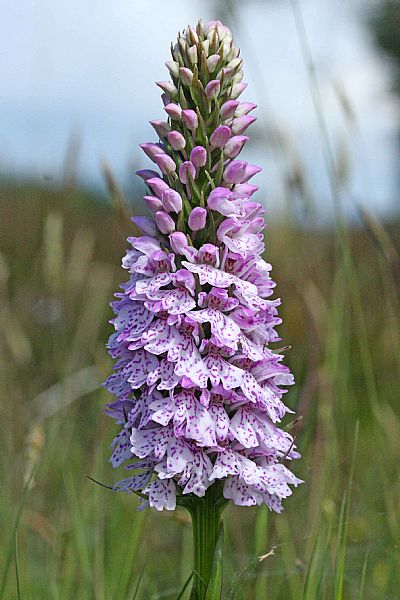 C Spotted Orchid
The orchids in my wildlife garden are nearly all coming into flower at the moment. There are hundreds of heath spotted, common spotted (above), fragrant and greater butterfly orchids. There has also been a marsh fritillary butterfly visiting the devil's-bit scabious. Young birds are everywhere. Amongst the more common species - there are nesting spotted flycatcher, yellowhammer, siskin and song thrush and the antics of the swallows that are nesting above our front window are spectacular.
It has been great acting as adviser to BBC Springwatch on Mull this year - the wild goats were featured on the programme last night with Iolo Williams.